When I was writing my first nonfiction book, I researched how my favorite writers structured their books.
I was interested in discovering two levels of structure:
the book-level structure (I call this the macrostructure) - how the book itself is laid out
the chapter-level structure (the microstructure) - what are the building blocks of each chapter?
Here's the structure I created to guide me in 2014.
Since I made it my life's mission to create my personal publishing empire, I will be needing the content in this article myself. There are two good places to keep this article:
In my private drawer, so that only I can benefit from my immense wisdom.
Publicly on the internet, so that my old friends and new can read them.
Saving other people's time is one of my highest values. I definitely plan to upgrade it and improve this article as I acquire new knowledge. Feel free to contact me with your own improvements.
General Book Structure
I categorize all content in three main areas, in that order:
WHY
WHAT
HOW
I have to start with why. I learned that Simon Sinek, of course, who wrote the book under the same title. I never read the book, but I bet he started it with WHY.
The WHAT part is where I announce what I'm going to be talking about in the book. This is where I:
define certain terms
name the enemy that I'm fighting against
The HOW is sadly not part of every book, but I'm not interested in writing those kinds of books. I write books to share my knowledge, and knowledge is in the HOW part.
Book-Level Structure of a Non-Fiction Book
Here's the ideal anatomy / structure / architecture of the kind of book I want to write.
Cover
Customer and Press Quotes
Verso
Dedication
TOC, detailed
Foreword
Introduction

a. Why is this book relevant?
b. What will you learn from this book?
c. Who is this book for?
d. Who this book isn't for?
e. Link to buying this book

(this is for people who haven't purchased it yet - this is part of the free sample)

Individual chapters

(take a look at the "Chapter-Level Structure" section below)

Conclusion

a. Key Takeaways
b. Call to Action Page

i. contact me with feedback
ii. tweet about the book
iii. subscribe to the newsletter
iv. thanks and to our continued success

About the Author
Appendixes

a. Resources
b. Glossary
c. Credits
d. Acknowledgements
e. Copyright Notice
f. Disclaimer
Chapter-Level Structure of a Non-Fiction Book
Headline (H2)
Quote
Individual sections

(if the book was a blog, these would be the blog posts)
a. WHY

i. start with the tl;dr
ii. continue with a personal story

b. WHAT
c. HOW
d. introduction to the next section

Summary of the chapter / Key Takeaways
Introduction to the next chapter

(this makes the reader turn pages and not stop reading)
Miscellaneous Findings
Authors promote their other books by mentioning them inline with their content, everywhere where it adds value to content.
in the Little Red Book of Selling, Jeffrey Gitomer invites his readers to get more content by registering on his website, www.gitomer.com. Tim Ferriss does that all the time too: he's calling his readers to visit his website for resources. These two authors treat their websites as companions to their books.
"There's more on our website" is the magic sentence in non-fiction books. Everything that does not belong in a book (because it's too heavy, too interactive, too complex) I am totally allowed to put on a website, for free, for everyone to look at. The book promotes the website (where my products are) and the website promotes the book.
---
Struggling With Writing Website Content?
Be done FAST and EASY with my B2B Website Content Writing Guide.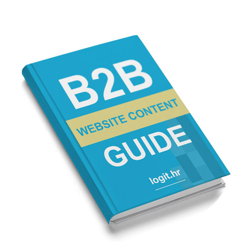 Download a FREE Sample