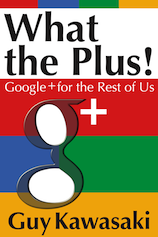 Yesterday I've read Guy Kawasaki's newest ebook "What The Plus!" in one sitting. The book is the missing manual about succeeding on Google+by attracting as many followers as you can.
I recommend that you read the book (it's only $2.99) and test everything he says. It works. I may not have 1.7M Google+ followers like Guy does, but everything he wrote worked for my Google+ presence as well.
This blog post is not a book review
Here I personally want to explore and write down things I think Guy Kawasaki does to spread the word about his books.  Here's one book review by David Deal that Guy Kawasaki shared on Google+. 
I'm writing this because I want to remember the following book marketing lessons from one of the bestselling authors in the world.
Give away book copies for FREE
Every now and then, Guy gives away hundreds of PDF copies for free.
Guy said in a recent hangout that the more he gives away, the more he sells. He has his own theories why this is so, and one of mine is that people who got the book for free do more than an average user to share the book. I got the book for free, liked it and felt like sharing. Also, knowing that Guy reads and responds to almost every mention of his name on Google+, this blog post I'm writing is a nice way to connect with a person I admire, and maybe get on his radar (because I will be mentioning this blog post on Google+).
Don't work alone on your book
Before Guy finished the book, he sent it to 200+ volunteers / beta testers. They checked the book for typos, factual and logical errors. Kawasaki basically crowdsourced bug fixing and attributed beta tester by mentioning people's names in the book.
I've seen other successful authors do this, and there's a good reason why this is good marketing. 
First, other people lend you an objective pair of eyes and the book comes out better because of it. A good book gets more stars on Amazon.com.
Second, other people do your work for free. Time is money, and if I was Guy Kawasaki, I'd sure as hell tap the potential of 1.7M followers to do nice things for me. Guy shares so much quality information online that many people like to return the favor.
At last, but not the least: when Guy frakkin' Kawasaki mentions your name in his book, you're bound to tell everyone you know on Google+, Twitter and Facebook about it. Free, priceless word of mouth for Guy that helps his SEO as well, and powerful social proof for you.
Use other people's art and credit them
Guy used other people's photos wherever he could, and properly credited authors with links to their websites. This makes sense, especially for Guy - a photography afficionado. Why include your own photos if you can get a mention or a link to the book from one more artist, who you share a passion with?
Share, share, overshare - and be helpful
Guy's ebook is full of links to posts, books and other people. He shares lavishly. This makes the book a helpful resource, even to Google+ 1st generation users like me. I've visited almost every link Guy mentioned in the book and circled a few new interesting people.
People whose links and resources ended up in Kawasaki's book will most likely talk about it, buy a copy and write a review of the book on their blog. 
So, why work in a vacuum, when you can share your knowledge and attribute people on every occasion you get?
Help people blog about your book by making the book awesome
Guy makes the book visually attractive by including relevant quotes at the beginning of every chapter and breaking long pieces of text with images and screen captures. 
Also, a healthy dose of humor is present in every chapter. Just enough to turn yet another page.
An attractive book helps people finish reading the book, and people who finish reading the book will blog about the book. See what I'm doing here? Blogging about a book. If I read half through it, I would be ashamed to blog about a book I didn't finish reading.
Ask an influential friend to write a chapter of your book
Guy asked a few people to write chapters of his book:
A popular photographer Dave Powell wrote a chapter about sharing photos.
Peg Fitzpatrick, director of marketing and social media manager, talked about how to succeed on Google+ if you're not famous like Guy is.
Lynette Young, creator and curator of Women of Google+, explained how to succeed as a woman on Google+.
This is an awesome concept: the author does not pretend to be an expert in everything, and this very act makes him even more influential. Guy invites another expert to speak about his or her field of expertise, at the same time promoting those people, and giving them the chance to promote Guy's book. At the moment, 2 of 3 of those people have a direct link to Kawasaki's book in their About sections on Google+. 
Three other people wrote 3 out of 14 chapters of the book. Again - don't work in the vacuum, promote other people's work, help them and they will in return help you. Guy's book "What the Plus?" is all about promoting other people on Google+ and collecting influence points for this free promotion.
Table of contents of the book "What The Plus!"
Here's what you can read about in the book:
Chapter 1: Why I Love Google+ 
Chapter 2: How to Get Started 
Chapter 3: How to Master Circles and Streams 
Chapter 4: How to Make an Enchanting Profile 
Chapter 4+: How to Achieve Trustworthiness 
Chapter 5: How to Comment
Chapter 6: How to Share Posts 
Chapter 6+: How to Optimize for Social Search 
Chapter 7: How to Share Photos 
Chapter 8: How to Respond to Comments 
Chapter 9: How to Hang Out 
Chapter 10: How to Get More Followers
 Chapter 10+: How to Be a Little Fish in a Big Pond 
Chapter 11: How to Deal with Bozos 
Chapter 11+: How to Thrive in the All-Boys' Club 
Chapter 12: How to Avoid Cluelessness 
Chapter 13: How to Get Google+ Help 
Chapter 14: How to Master Google+ 
Go get "What The Plus!" or read more on Mashable about how Guy launches books using social media.